Customer
The Customer is DHL Express (Hellas) SA, the local office of the world's leading postal and logistics company Deutsche Post DHL Group. DHL is present in over 220 countries and territories across the globe, making it the most international company in the world.
Challenge
Our Customer wanted to have the ability to seek and find video records (BOSCH CCTV) from the parcels moving on the conveyor belt. Each parcel passes through the scanning point (DATALOGIC) where the PCIDs are automatically saved in the server and accordingly the video of that moment in the BOSCH BVMS internal storage server.
As iBS went to become the Customer's chosen technological partner, the list of identified challenges grew to include the following to be addressed by the development team:
Easy to use Bosch SDKs
Easy to collaborate with other Development Teams
International business mentality
Solution
Datalogic integrator is sending through TCP port to our system, all scanning strings. Our system listener is cleaning incoming strings and organizing them for future filtering and use.

DHL employees using our Client application can enter a PCID (Parcel Barcode) and the application will provide information about when this specific parcel appeared on CCTV cameras. Also, they can easily justify – focus to the needed clip and save screenshots, for future use.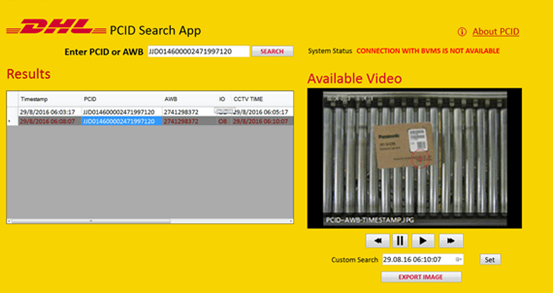 Technologies and tools
Bosch video recording manager, BVMS SDK v 6.5, C#, Microsoft SQL Server