Mail Store archiving solution
iBS offers Mail Store archiving solution, a key component when it comes to protecting and retaining business-critical emails and correspondence.
Email is not only one of the most important ways of communicating, it is also one of the largest and most valuable information resources in business. Information sent by email is generally not stored anywhere else, but simply remains in the employees' mailboxes. This results in stores of knowledge that span several years and growing larger by the day. Also, users can delete important emails by accident or at will, without this being noticed. This means your company could lose important data every day.
You can make sure that all your business emails are archived provided you set up the configuration for journal archiving. For a company to be successful it is essential to secure the information (Backup/Restore), meet legal requirements, reduce resource consumption, and still maintain fast and easy on-demand access to employees.
Advantages For Your Company
Assistance with regulatory compliance
Help with fulfilling GDPR obligations
Fast full-text searching for emails and attachments
Save up to 70% storage space
Protection against data loss
Reduce the workload of email servers
Simplify backup and restore
Independence of cumbersome PST files
Elimination of mailbox quotas
The Standard in Email Archiving
MailStore Server is one of the world's leading solutions for email archiving. Easy to install, reliable, and low-maintenance.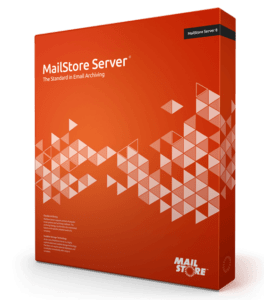 What do you like best?
Fast to install, simple to configure, very intuitive to use, and integrating with mail systems to be archived. It represents a valid solution and for some of our customers is become a must-have tool. Searching in the email archive is fast and accurate.
What do you dislike?
Honestly, with mailstore, we've found the perfect solution for archiving. An integrated archive's backup strategy or integration with a backup solution could be a top-level feature very appreciated. Also, spam recognizing or more complex exclusion rules are needed.
What problems are you solving with the product? What benefits have you realized?
The email archiving and historical searching. The goal to apply rules to users to maintains his/her mailbox light and clean.
Flexible Archiving
MailStore Server allows you to archive your emails, regardless of which email system you use to store them. This guarantees your company's optimum flexibility now and in the future.
Storage Technology
The core of the MailStore Server consists of a fully integrated storage technology that can manage large amounts of data both efficiently and safely. It doesn't require an external database management system and is available immediately after setup is complete.
Fast Search Access
Users can access the archive using a number of methods (such as integration into Microsoft Outlook and Web Access) and quickly browse the emails using an incredibly powerful full-text search. Access via the familiar folder structure is also possible.
Industry Expertise
iBS's web portal development expertise has evolved across multiple industries:



Respect
We are experienced in bridging the
gaps between different cultures and
business traditions. We work on the
basis of respect for their local
approaches and business practices.

Responsibility
Not just words. iBS offers documents,
references, artifacts, and other
tangible evidence to verify its
expertise; we never make
unsupported claims.

Deep Learning
Investment in R&D activities and pioneering in the use of new methodologies and IT tools. From
Novell to Linux, using Delphi or Power Apps, we are always on the front line.

Focus on result
You will not feel any kind of difference wherever you are located. Depending
on your requirements, complete project and progress information can
be available around the clock.
Ready to develop something special?