Boat Charter Management Software
The innovative ALL-IN-ONE solution for boat charter management. We speed up your work by automating the charter process and helping you track your payments.
Vessel Management
Crew Management
Boat Sales
Boat charter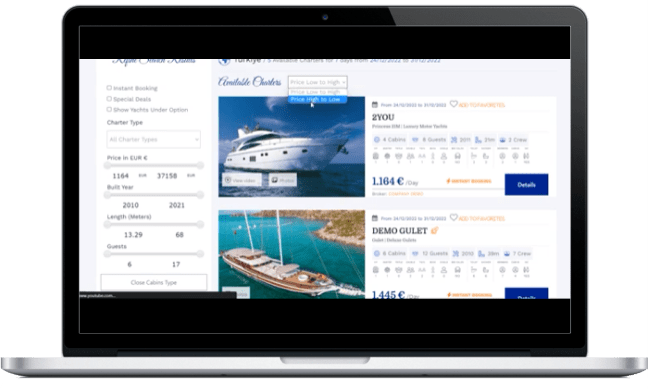 Saas boat charter management system
With the complete software solution for Crew and Vessel Management you get DIRECTLY from your website
view your boats
availability search
booking and payment of the charter
It is the ideal software tool that will take your website's functionality to the next level.
API interface for chartering and selling boats
The API connection is fast, easy to implement and allows you to display your fleet of boats on one or more websites, with a custom design.
Through the interface API the processing of requests to display and search for vessels is very fast. The response time is reduced to a minimum, making the desired data available at all times.
Easy integration is achieved through the provided examples of various calls – requests, as well as a list of all possible results or errors.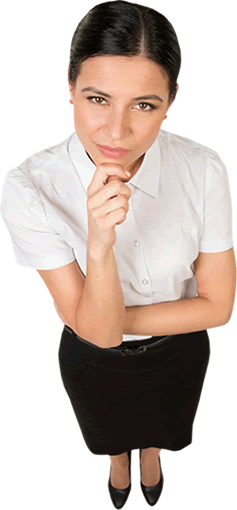 The only tool you'll need
iBS has long experience in yacht charter systems and has the expertise of connectivity with other systems such as NauSYS. We offer complete solutions and options for everyone, owner operators, clubs and companies.
Boat charter
Create charter policies for single-day, multi-day boat bookings. Configure special payment terms and cancellation policies, availability check functionality with advanced filtering capabilities for your entire fleet.
Boat Sales
Define boats for sale, make offers and manage all sales steps. Sales quotes, orders and payments are tracked and organized so you have complete control.
Vessel Management
Boat management in addition to the detailed technical characteristics, photo & video collection, also includes the Maintenance Services Calendar. Get full control over certificates, inventory, licenses, and the job log.
Affiliate Management
Control and manage your yacht shipping company and speed up your operations. In one central panel you manage a variety of different data: crew, agents, marinas, base managers and customers.
Financial management
Your business wallet! It records all debits/credits, pending payment notices and overdue collections, from all your partners and yachts. Get filtered views about your financial balances.
APIs
Publish your yachts on your website or any other linked portal on FOMCS. The Yachts Chartering API and Yachts for Sales API put all FOMCS functionality at your 'hands'.
User Management
Advanced user management and accessibility. Choose "Who and What" each user can do and additionally assign management to specific users, for one or several yachts.
Libraries / Property
Rich libraries are available for use consisting of countries, regions, marinas as well as boat manufacturers and yacht models. In addition, exchange rates are automatically updated by the FED and the ECB.
Electronic Brochures
Online, broker-friendly e-brochures for your boats are provided, with your photos and video galleries. Share and print e-brochures for your yachts, with your company logo and details.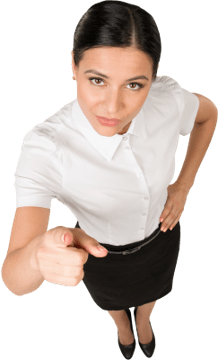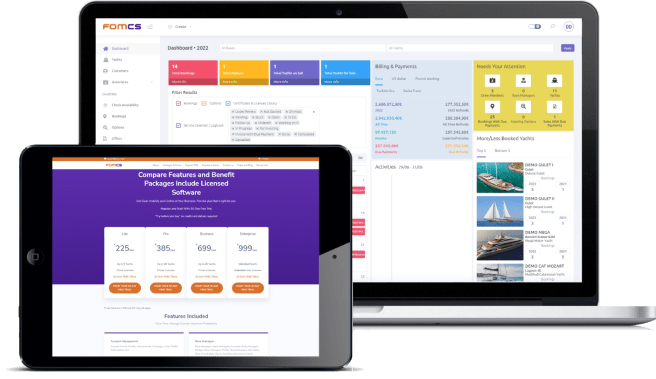 Get your own modern and fully managed website instantly
We offer turnkey solutions, design on demand, create websites that meet the latest trends in the Yacht Charter industry. The abundance of websites already in operation gives us the advantage of navigating towards the complete satisfaction of your needs
The offered display solutions for your boats vary depending on the desired booking and payment method.
No Automation
Partial Automation
Full Automation
All we ask is to update your boats, create your price lists and you'll be ONLINE the next day!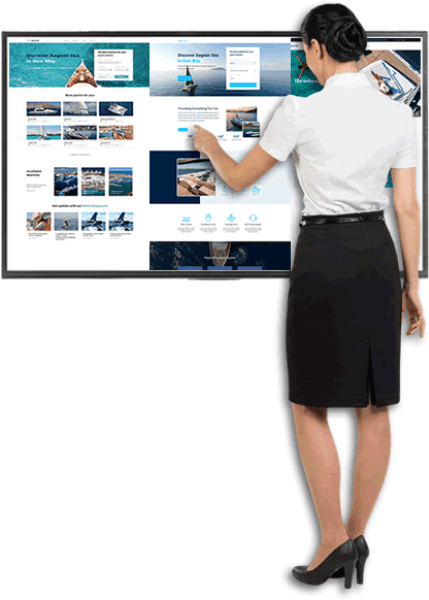 Contact us to discuss your IT Project: Software Development, Website Production, Office H/W & S/W Equipment, Cloud Hosting Servers and Technical Support, IT Network Maintenance.