Custom Software Development
Get comprehensive software development that matches your quality product request. We will help to upgrade the functionality of your system using the latest innovative technologies.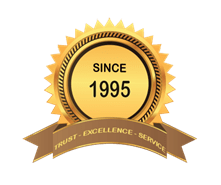 iBS offers the development of powerful, one-of-a-kind software intended to meet customers' unique demands. Our skilled specialists know the game of business and deliver successful solutions that accord with all the specified requirements while invariably staying within time and budget limits. Along with full-cycle custom software development, we provide software maintenance and platform-based customization.
Throughout our long experience of collaboration with various industries, iBS has been able to create deep insights into their peculiar nature and now grants a highly professional individual approach. We present solutions that satisfy customers' needs much more precisely than any off-the-shelf product. Having already finished multiple software projects and ensured business automation for hundreds of clients, we are experts in:
Customizing the usage for Bosch Professional Equipment (Praesideo, BVMS, Dicentis)
Reporting, KPI Tools, Tailor-made web applications for the shipping industry
Booking Engines connected with 3rd parties
Moreover, we have ample experience in Tourism (Excursions Management System), in API's connectivity world and we are always looking forward to new opportunities that would broaden our minds.
Trust – Excellence – Service
With a background rooted in science, we build on our legacy knowledge and grow it in the areas of System Integration, Knowledge Management.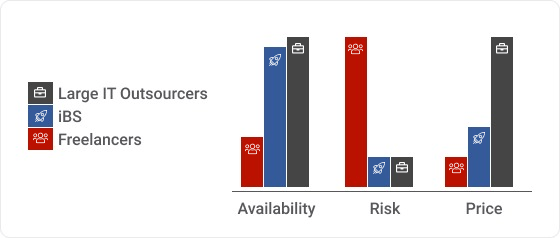 Freelancers, you might enjoy the lowest prices but you are taking high Risks about their availability.

Large IT Outsourcers may handle successfully any kind of project but you will need a stable high budget, always available.

Working with iBS will give you the advantage of enjoying affordable prices and guaranteed availability.
We offer both the provision of certain services and full-cycle software development, striving for technical excellence at every stage of the development process.
With a sharp and mindful attitude toward our customer's business, iBS is ready to effectively organize your software development outsourcing and build a dedicated team of IT professionals of any size with flexible terms for offshore and custom software development projects.
We are able to implement projects on any technology stack, matching client business needs and requirements. The project scope is discussed and agreed on at the nascent stages with a clear and honest discussion of all the pros & cons.
We utilize various software development technologies and commit to keeping up with the latest software development market trends, tools, and technologies. We master all levels of software complexity and provide quality solutions on the following software development technologies:
Back-end: .NET, C#, PHP (Laravel)
Mobile: Java, REACT
Frontend: HTML5, CSS3, JavaScript
Databases: Ms. SQL Server, MySQL
Acknowledging the volatile nature of the business, we ensure a software architecture that allows on-the-go changes harmlessly to its performance.
Industry Expertise
iBS's web portal development expertise has evolved across multiple industries:



Respect
We are experienced in bridging the
gaps between different cultures and
business traditions. We work on the
basis of respect for their local
approaches and business practices.

Responsibility
Not just words. iBS offers documents,
references, artifacts, and other
tangible evidence to verify its
expertise; we never make
unsupported claims.

Deep Learning
Investment in R&D activities and pioneering in the use of new methodologies and IT tools. From
Novell to Linux, using Delphi or Power Apps, we are always on the front line.

Focus on result
You will not feel any kind of difference wherever you are located. Depending
on your requirements, complete project and progress information can
be available around the clock.
Ready to develop something special?