One platform with every data protection capability you need, and the complexity you don't.
Arcserve Unified Data Protection (UDP) is data backup and recovery software. The product combines three previous Arcserve data protection products: Backup, D2D, and High Availability and Replication, under a common interface. Arcserve UDP aids in data migration among disk, tape, and cloud backups. The product is compatible with Windows and Linux operating systems.
Arcserve UDP is supported, instant recovery of virtual machines (VMs), array-based snapshots on NetApp FAS storage, enhanced management of Linux-based storage, and VM failover between VMware vSphere and Microsoft Hyper-V hypervisors.
Easily turn on and off capabilities as needed, and scale hybrid business continuity topologies, locally or over long distances with multiple sites, including service and cloud providers. Installation is done in a few clicks. Create data stores on the recovery point server, add the nodes you want to protect, a storage destination, and a plan.
Back up to either a local machine or a central recovery point server (RPS) with global, source-side deduplication. A destination can be an RPS, local folder, or remote shared folder. Add network CIFS/NFS shares, Office 365 Exchange or SharePoint online nodes, and create related tasks.
Perform jobs such as backup, virtual standby, instant VM and replicate. Perform a simple restore or a bare metal recovery.
Fully protect a broad range of platforms, including Windows, Linux, Amazon EC2, Microsoft Azure, Office 365 (Exchange Online, SharePoint Online and OneDrive for Business), Microsoft Exchange, MS SQL, file servers, Microsoft IIS, Microsoft Active Directory, Oracle Database, PostgreSQL, VMware vSphere (agentless), Microsoft Hyper-V (agentless) and Nutanix AHV.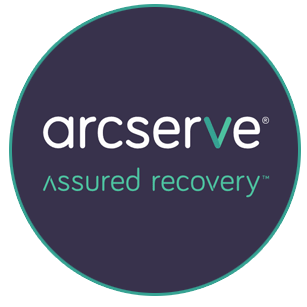 Arcserve UDP Compare Editions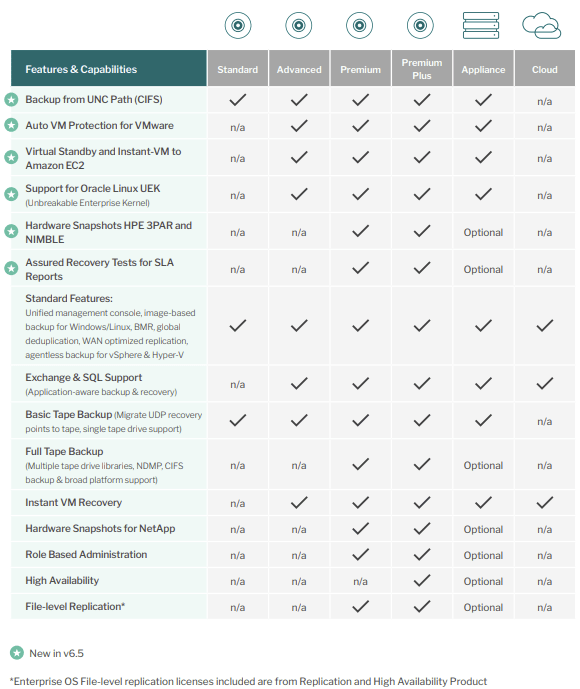 An all-in-one backup appliance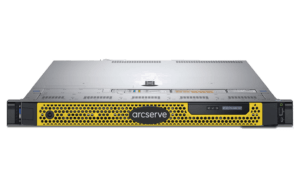 Robust data protection doesn't have to be complicated. The Arcserve® UDP Appliance series simplifies your IT infrastructure, lowers costs, and provides up to 90TB of source data.
With Arcserve, you'll boost your backup and recovery with:

Cloud-native capabilities
Global source-side deduplication
Multisite replication and tape support
Automated data recovery
Save time and resources.
The UDP system jump-starts your backup and recovery with a setup wizard that takes less than 15 minutes.
Prevent data loss
Prevent data loss and extended downtime across cloud, local, virtual, hyper-converged, and SaaS-based workloads using only one unified central management interface.
Less downtime
Reduce your downtime from days to minutes, and validate recovery times and points (RTOs/RPOs) and service level agreements (SLAs) with automated testing and granular reporting.
Restore faster
Restore faster with instant VM and bare metal recovery (BMR), local and remote virtual standby, application-consistent backup and granular restore, hardware snapshot support, and extensions delivering high availability and tape support.
Accelerate time
Accelerate time to value without the need for extensive training or costly professional services. Deploy in minutes and reclaim up to 50% more time.
Bring efficiencies
Bring efficiencies to your infrastructure by freeing up to 20x more storage capacity.
Scale on demand
Scale-up and down on-demand, and turn on and off capabilities without forklift upgrades or additional products.
Industry Expertise
iBS's web portal development expertise has evolved across multiple industries:



Respect
We are experienced in bridging the
gaps between different cultures and
business traditions. We work on the
basis of respect for their local
approaches and business practices.

Responsibility
Not just words. iBS offers documents,
references, artifacts, and other
tangible evidence to verify its
expertise; we never make
unsupported claims.

Deep Learning
Investment in R&D activities and pioneering in the use of new methodologies and IT tools. From
Novell to Linux, using Delphi or Power Apps, we are always on the front line.

Focus on result
You will not feel any kind of difference wherever you are located. Depending
on your requirements, complete project and progress information can
be available around the clock.
Ready to develop something special?